Army bomb disposal expert killed in Afghanistan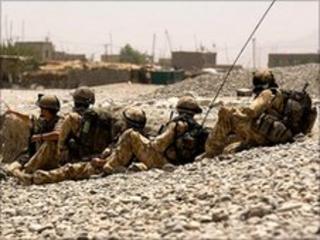 A British Army bomb disposal expert from 101 Engineer Regiment has been killed in Afghanistan, the Ministry of Defence says.
The soldier's next of kin have been informed of the death, which happened on Sunday in the Nahr-e Saraj district of Helmand province.
He was killed in a firefight with insurgents, the MoD said.
The death takes the total number of UK service personnel killed in Afghanistan since 2001 to 309.
The soldier was serving as part of the counter-improvised explosive device task force.
Spokesman for Task Force Helmand, Lt Col James Carr-Smith, said: "The soldier was part of an [explosive ordnance disposal] team that was extracting from an incident when he was killed by small arms fire.
"He died seeking to rid Helmand of IEDs such that local Afghans could move freely throughout the province.
"He will be greatly missed and his actions will not be forgotten. We will remember him."