Iranian charity accuses Egypt of blocking Gaza aid ship
By Jon Leyne
Middle East correspondent, BBC News, Cairo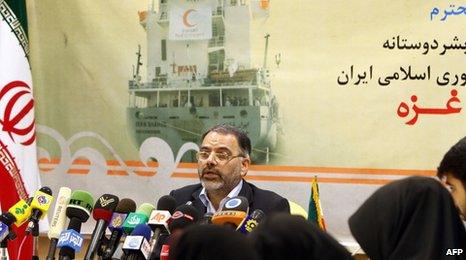 Iran's Red Crescent says it has put off an aid shipment it was going to send to Gaza after being told it would be prevented from using the Suez Canal.
A Canal official denied that permission had been refused.
Israel insists that aid shipments for Gaza have to go through its territory in order to check that nothing of military use slips through.
Iran organised its aid shipment after the clash between Israeli forces and a Turkish-led aid flotilla in May.
The Iranian Red Crescent said its ship was loaded and ready to leave the port of Bandar Abbas.
One Iranian parliamentarian has suggested the slightly unlikely alternative of sending the aid via the landlocked Caspian Sea on Iran's northern border.
Other options including airlifting the shipment are being examined.
In the meantime, for all Iran's fiery rhetoric, it seems that a direct confrontation with Israel has once again been avoided.
Related Internet Links
The BBC is not responsible for the content of external sites.