New ownership restrictions threaten Fiji's top daily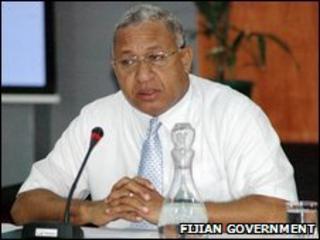 Fiji's military leaders have introduced new restrictions which target foreign ownership of media organisations.
All media outlets must now be 90% Fijian-owned - meaning that the leading daily, the Fiji Times, will have to change its ownership or close.
The Fiji Times is owned by Rupert Murdoch's News Limited, whose chairman described the move as "an appalling assault on free speech".
Fijian leader Frank Bainimarama has targeted the media since his 2006 coup.
The latest restrictions also introduce heavy fines for media organisations that publish material deemed - by a government-appointed tribunal - to be against "national interest or public order".
'Force us out'
The Fiji Times now has three months to comply with the new foreign ownership rules.
Any organisation that failed to comply with the restrictions "shall cease to operate as a media organisation, and shall also be liable for an offence under the decree", Attorney General Aiyaz Sayed-Khaiyum told journalists.
News Limited chairman and chief executive John Hartigan said the move was a blow to Fiji's economy and an "outrageous precedent" that would make other foreign investors nervous.
"We will fight while we still can, but there is no doubt that this move is designed to force our hand in selling the business and pulling out of Fiji altogether," he said.
Mr Bainimarama ousted elected leader Laisenia Qarase in a bloodless coup in 2006, accusing him of corruption.
He promised elections to return the country to democracy but these have not taken place and it is not clear when they will. Several foreign journalists have been expelled.
In April 2009 Mr Bainimarama ordered newspaper, television and radio editors not to publish or broadcast any material that showed the military in a bad light, after he suspended the constitution in order to be reappointed as prime minister.
In a statement when the draft of the latest restrictions were made public, media watchdog Reporters Without Borders said they appeared "designed to enable the military government to tighten its grip on the media".