New Worcester sports arena plans unveiled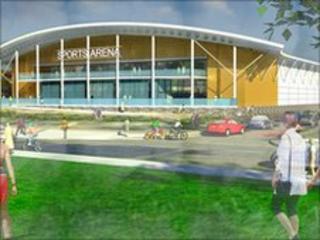 Plans for a new £10m sports arena in Worcester are being unveiled.
The 1,500-seat venue on the site of a former fruit and vegetable market in Hylton Road is being developed by the University of Worcester.
It said the facility, which would be Worcester Wolves basketball club's new home, will open in spring 2012 and be available for the whole community.
Proposals were going on show at Worcestershire County Cricket Club during a sports day for youngsters.
'Great range'
The Learning Through Sport Day marks the official launch of a fundraising campaign for the new arena.
The facility would be specially designed to cater for disability sports, the university said.
There will be three basketball courts and the venue would "also allow for a wide range of other sports to be played", it added.
The arena will include treatment and first aid rooms, meeting spaces, a cafeteria, a hospitality suite and a kitchen.
Mick Donovan, head of the university's Institute of Sport and Exercise Science, said: "The new arena will be able to meet the needs of the region's sporting community while also providing a venue that will attract a great range of spectator events to the city."