Prince Charles backs wool with Carmarthenshire visit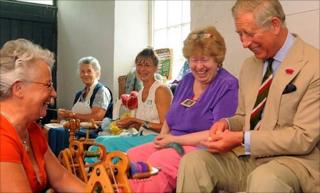 The Prince of Wales has spoken up for the wool industry during a visit to the National Wool Museum at Dre-Fach Felindre, Carmarthenshire.
The prince, patron of the Campaign for Wool, criticised cost-cutting measures such as introducing new breeds of sheep which naturally lose their wool.
"That seems to me to be the absolute epitome of all that is wrong in the way that we look at the world," he said.
The prince and the Duchess of Cornwall are on their summer tour of Wales.
Last week, figures showed the National Wool Museum had recorded the highest percentage rise in visitor numbers - 211% - across all seven National Museum Wales properties since free entry was introduced in 2001.
During a tour of the musuem Prince Charles spoke of the many virtues of wool, once a massive money-spinner for companies across the UK.
He highlighted its natural flame retardance, its comfort and the fact it is a natural product which is also entirely biodegradable.
He also spoke of the campaign's international success in Australia and New Zealand, where the fight to improve the image of wool also has strong backing.
Rag ruggers
Earlier, during his tour of the museum, the prince met members of knitting circle based there.
He also stopped to speak with members of the Ceredigion Guild of Spinners, Weavers and Dyers, and a group of rag ruggers, or people who make traditional rag rugs.
The royal couple were later due to host a drinks reception for villagers at their farmhouse, Llwynywermod, near Myddfai near Llandovery.
The prince bought the estate at Llwynywermod in 2006 for £1.2m, and it underwent a £1.8m refurbishment.
This is the third year the royal couple have used it for entertaining local people.