Tributes paid to dead British soldier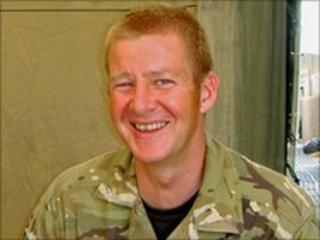 A British soldier who died in hospital in Birmingham after being wounded in Afghanistan has been named as Bombardier Stephen Raymond Gilbert.
He was wounded by an explosion on patrol in Nahr-e Saraj North, Helmand province on 10 June.
Bombardier Gilbert, 36, who served with the 4th Regiment Royal Artillery based in Topcliffe, North Yorkshire, was married with two sons.
His wife Jackie said she was "proud of Steve and everything he believed in".
Bombadier Gilbert grew up in Dumfries in south west Scotland before joining the Army and moving to England.
His death took the total number of UK service personnel killed in Afghanistan since 2001 to 308 and 19 UK personnel have died this month.
Mrs Gilbert said: "We as a family are so proud of Steve and everything he believed in.
"He was a fantastic father and Connor and Kristian have not only lost their dad but their best friend.
"Steve was a devoted husband and we lived and laughed every day we shared. I do truly believe I was lucky enough to find my true soul mate."
'True passion and spirit'
Bombardier Gilbert's death came on the same day that thousands of people all over the UK took part in events marking their support for Armed Forces Day and just hours after Prime Minister David Cameron said he hoped UK troops would be out of Afghanistan within five years.
Lieutenant Colonel Chris Squier, Commanding Officer 4th Regiment Royal Artillery, said: "Bombardier Stephen Gilbert was a rising star.
"A fit, robust Scotsman, he was a man of great compassion and moral purpose. His family were everything to him.
"As a soldier he was the epitome of the Gunner Fire Support Team Assistant.
"Knowledgeable enough to teach and mentor his team, strong enough to support his commander, fearless enough to lead them in the fight, courageous enough to lift his head from the ditch and call for fire and compassionate enough to treat his team as his own family.
"Men like him are truly rare. He fought for the final days of his life as he had lived, with true passion and spirit."
Secretary of State for Defence, Dr Liam Fox said: "I was deeply saddened to learn of the loss of Bombardier Stephen Gilbert.
"The tributes of his colleagues speak of a highly respected soldier who enhanced the lives of all those he came into contact with through his enthusiasm, humour and professionalism.
"His own high standards inspired those who served with him and he will be sorely missed. My thoughts remain with his family and those dear to him at this sad time."