World Turns gets Emmys send-off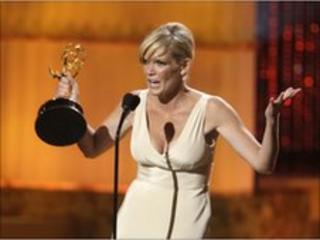 As The World Turns, starring Michael Park and Maura West, picked up the best actor and best actress awards at the Daytime Emmys, ahead of the soap's final episode in September.
CBS announced it was cancelling the long-running show last year.
"I can't think of a better way to say goodbye to a 13-year run on a 53-year-old show," said Park, who plays Jack Snyder in the soap.
CBS's The Bold and the Beautiful won best soap for the second year running.
Julie Pinson, who plays Janet Ciccone in As The World Turns, picked up the award for best supporting actress in a drama.
The Young and the Restless star, Billy Miller, won best supporting actor.
The Daytime Emmys were hosted by Regis Philbin at the Las Vegas Hilton.
The Discovery channel's Cash Cab, filmed in the back of a New York taxi, was named best game show for the third year running.
Its host, Ben Bailey, won best game show host for the first time.
"I want to share this with all my fellow cab drivers and stand-up comedians. Those are both very difficult jobs," said Bailey.
The Ellen DeGeneres Show was named best entertainment talk show.
The National Academy of Television Arts and Sciences, which awards the Daytime Emmys, gave a lifetime achievement award to Agnes Nixon, who created All My Children in 1970.
She also wrote for Guiding Light, As The World Turns and other daytime dramas.
The Academy also honoured Dick Clark and his music show, American Bandstand.
"Without Bandstand, without Dick, there would be no American Idol," said Simon Cowell, who is leaving the show to bring X Factor to Fox TV.