Bolton firebomb threat man bailed and on the run again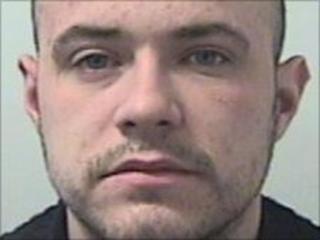 Prosecutors are under fire for not challenging the bail of a man who admitted witness intimidation only for him to go on the run for a second time.
Simon Buckley, who admitted threatening to firebomb a witness's home, is on the run after being granted bail.
Judge Steven Everett at Bolton Crown Court described the situation as "utterly inexplicable" when Buckley failed to appear on Friday.
The Crown Prosecution Service said it was investigating.
The 24-year-old, of Bolton in Greater Manchester, pleaded guilty to intimidating a witness who was to give evidence over an arson attack which killed Hameeda Begum, 71, and her four-year-old granddaughter Alana Mian in June 2008.
'Lengthy sentence'
He was due to be sentenced on 18 June but failed to show. A warrant without bail was put out for his arrest and police re-arrested him the following day.
He then appeared in court on the 19 June but the Crown Prosecution Service (CPS) did not put a case forward to remand him in custody and he was released on bail again - failing to appear on Friday, prompting the anger of Judge Everett.
The court had previously heard that Buckley, his girlfriend, Tracey Peers-Holland and a 16-year-old boy went to the house of a murder investigation witness on 14 October 2008.
Buckley told the man who lived there: "I'm Simon and when I find out who has been giving statements I will firebomb their houses," police said.
A CPS spokesman said: "We have carefully noted Judge Everett's comments and will be responding in due course.
"In the meantime, I can confirm that we are examining the full circumstances surrounding the granting of bail to Simon Buckley and the reasons for this decision."
Peers-Holland, 26, of Hawthorn Road, Bolton, has already admitted witness intimidation and was given a suspended sentence. The 16-year-old boy, from Bolton, who cannot be identified because of his age, was given a nine-month referral order, after admitting affray.
However, the judge warned that Buckley would be facing a "lengthy sentence" when he is returned to custody.
A Greater Manchester Police spokesman said: "We are aware that Simon Buckley, of Tonge Moor Road, Bolton, has failed to appear in court to be sentenced.
"We are now actively trying to find him. Anyone with information on Buckley's whereabouts is asked to contact us."