Atlantis shuttle crew visit children in Portsmouth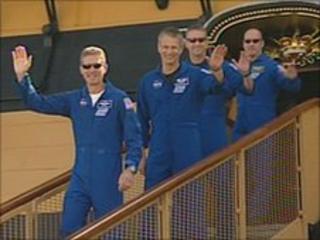 Astronauts who have just returned from a 12-day space shuttle flight have visited schoolchildren in Portsmouth on the first leg of a UK tour.
Four astronauts, including Briton Piers Sellers, spoke to thousands of children from all over the country at Fratton Park football ground.
The Atlantis shuttle returned from what was its last planned mission on 26 May.
Their visit, which also saw them take in attractions such as HMS Victory, was organised by Portsmouth Grammar School.
During the tour, which ends on 7 July, the crew will also visit London, Cardiff, Durham, Newcastle and Kent.
Mr Sellers, who grew up in Sussex and has completed three space missions, said: "More and more people go into space, we'll be doing more and more up there.
"The important message that we're trying to get across is that there's lots of wonderful things to do in the areas of science, technology, medicine.
"If you're a school kid, 12 years old now, and you study hard, there's all these opportunities out there for you."
First flown on 3 October 1985, Atlantis has completed 32 missions and travelled about 195 million km (120 million miles).
Nasa is now planning to retire the shuttle.
Before the visit, James Priory, Portsmouth Grammar School's headmaster, said: "The crew's visit to Portsmouth and the presentation to schoolchildren is intended to inspire young people, not to necessarily teach them about space exploration and physics, but to reach for the skies.
"The astronauts think of themselves as ordinary people doing extraordinary things."