Longest-serving US lawmaker Robert Byrd dies, aged 92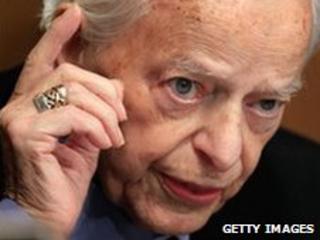 Democratic US Senator Robert Byrd, the longest-serving member of Congress in history, has died aged 92, his spokesman has said.
The West Virginia lawmaker died peacefully at a hospital in Fairfax, Virginia, the spokesman says.
Senator Byrd was elected to the House of Representatives in 1952, becoming a senator seven years later.
His death is not expected to change the Democrats' current majority in the Senate.
West Virginia Governor Joe Manchin, a Democrat, is expected to appoint a Democrat to serve the remainder of Mr Byrd's current six-year term, which expires in 2012, Reuters reports.
Iraq war critic
Robert Byrd's health had been failing for years, often forcing him to use a wheelchair.
Last week, he was taken to hospital suffering from heat exhaustion and severe dehydration, but other medical conditions reportedly developed later.
The cause of death was not immediately known.
As a young man, Mr Byrd was for a brief period a member of the white supremacist group the Ku Klux Klan and also joined Southern Democrats in an unsuccessful filibuster against the 1964 Civil Rights Act.
He later apologised for both actions, saying that intolerance had no place in America.
In his later years as a senator, Robert Byrd became a champion of civil rights.
He was also an outspoken opponent of the Iraq war and warned against a build-up of US troops in Afghanistan, winning a record ninth term in the Senate in 2006.
As recently as 2009 he was a senior Democrat on the powerful Appropriations Committee.
We asked you: How will you remember Senator Robert Byrd? Below are some of your replies:
Senator Byrd was a fine example of what we all hope to achieve in our lives - a human being who overcame the mistakes and misjudgements of youth. He went on to become an important Democrat in the Senate, and was one of the lone voices in 2003 arguing against the madness that became the Iraq war. My sympathy goes out to his family, and my feelings extend to all fellow Americans; we've lost a fine representative today.
Gabe, Point Reyes, US
Especially in last years, he spoke for me against the abuses of power of the Bush Whitehouse. Against the wars and military industrial complex, he spoke for peace-loving Americans everywhere.
Dorothy Knable, Sacramento, CA, US
I will remember the image of Senator Byrd being pushed in his wheelchair into the Congressional Chambers to vote on the Health Care Reform Bill. He was an example of a dedicated public servant.
Patricia Eriksson, Fenton, MI, US
On March 19, 2003 at 3.45pm, the day when President Bush stood on the aircraft carrier USS Abraham Lincoln and made his "Mission Accomplished Speech", Senator Byrd - one of just a few left on the floor of the Senate at that moment - made a painfully eloquent condemnation of the direction in which America was going. To a virtually empty space. How sad. His entire speech: "Today, I Weep for my Country" can be found on YouTube. The speech is even more memorable if quietly read.
Hilary Stookey, Newport, RI, US
I am a UK Citizen living in West Virginia. Senator Byrd's influence is all around us. There are numerous Federal Agencies and facilities in The Eastern Panhandle of WV attributed to his unashamed use of "earmarking" and influence in the Senate. He was dubbed "the guy who was moving the Federal Government to WV one building at a time"
Paul Maher, Shepherdstown, WV, US
I will remember Byrd as the father of pork-barrel spending, and the king of earmarks for his state of West Virginia. He rarely supported a bill without tagging on measures to divert taxpayer money to his state. He even succeeded in opening a U.S. Coast Guard office in his state, which is landlocked.
Gordon Hoffman, Baltimore, US
I remember him as why we need term limits - showed no mercy on federal spending - anything for Virginia - a dictator in the Senate.
Darrel Nordyke, Round Rock, Texas
51 years in the US Senate is way too long for anyone to serve. Bring in some new blood and let's move Washington forward.
SickOfDC, Alabama
Being a southerner who grew up during the turmoil of the 1950's and 60's, I can appreciate the tremendous moral courage it took for Senator Byrd to change his views on civil rights from intolerance to acceptance. He showed that courage again when he opposed the stampede to war in Iraq at a time when many on Capitol Hill went along with the herd for fear of their careers. That integrity went back a long way in Senator Byrd: are your readers aware that he was a descendant of English composer William Byrd, who remained true to his faith at a time when Catholics were persecuted?
Phil Muse, Stone Mountain, GA
I met him at a software conference in Charleston, WVa, in about 1988. He was charming, slightly tipsy, and promoting West Virginia. The local conference hosts sang his praises as a man who worked tirelessly and ruthlessly to bring business into his home state.
Rick Carle, Bedford, MA, US
If I was to be asked who I would most like to have a 1-on-1 with, living or passed, it would be Senator Byrd. I have been saying it ever since I first came across this incredible figure in American politics. I have long been impressed by Senator Byrd's understanding or acerbic knowledge of political culture in the States, his deep-rooted commitment to his constituents and his pragmatic approach to serious issues, such as race. An institution within an institution, Senator Byrd encapsulated anybody who was in his presence when delivering one of his fine speeches, with wit, self-deprecation, arrogance and the like. All you have to do is watch his now infamous 'Big Daddy' speech and you'll see why. Ask President Obama whose office he visited first after being elected to the Senate. His imprint on Congress is permanent, and will be valued. Robert Byrd has died. Everybody else goes up one place.
Colton Richards, Birmingham, UK
It is both fascinating and encouraging to realise that someone, especially perhaps a politician, can go from a member of an extreme organisation (KKK) to a defender of civil rights. There's still hope out there!
Janet Johnstone, Algoz, Portugal
Well, I never met him in person but I have been following his politics for the past decade or so. In short, he is a very clever and such an intelligent politician of all times. May his soul rest in eternal peace.
Modou Bojang, Gambia