Chris Brown performs Jackson tribute at BET awards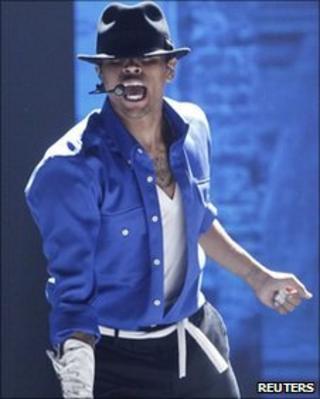 Chris Brown picked up an award and performed an emotional Michael Jackson tribute at the Black Entertainment TV (BET) awards in Los Angeles.
US singer Brown, sentenced to community service in 2009 for assaulting singer Rihanna, won the "fandemonium" award.
"I let you all down before, but I won't do it again, I promise you," he said.
Other award winners included Alicia Keys, Young Money, Trey Songz and Drake while Prince picked up a lifetime achievement award.
Brown, 21, was introduced on stage at the Shrine Auditorium by Jermaine Jackson - two days after the first anniversary of the death of his brother.
Brown's medley incorporated Jackson's trademark moonwalk dance during Billie Jean.
In Man In The Mirror, Brown's voice cracked as he broke down in tears.
BET's viewers' choice award, meanwhile, went to Brown's ex-girlfriend Rihanna for her song Hard featuring rapper Young Jeezy.
Prince, 52, was honoured with an all-female tribute which featured Janelle Monae with Let's Go Crazy, jazz musician Esperanza Spalding with If I Was Your Girlfriend, Alicia Keys with Adore and Patti LaBelle with Purple Rain.
"I do believe the future is in good hands, I've seen so much talent here tonight," Prince told the audience.
"I was pretty wild in my younger days and you don't have to do what I do.
"You don't have to make any of the mistakes that I made. The future is in your hands."
Star-studded show
Alicia Keys picked up two awards, for best female R&B artist and best collaboration, with Jay-Z, for their duet Empire State Of Mind.
Rapper Drake, whose debut album Thank Me Later is at number one in the US, won best male hip-hop artist.
Trey Songz, who has had US hits with singles including Can't Help But Wait and Say Aah, won best male R&B artist.
Video of the year was Video Phone, by Beyonce, featuring Lady Gaga.
The acting prizes were awarded to Oscar winner Mo'Nique and British actor Idris Elba, star of US show The Wire.
Other performers in the star-studded show, hosted by Queen Latifah, included Kanye West, Ludacris, Usher, Diddy and Busta Rhymes.