Arch move due at new Sheinton Bridge site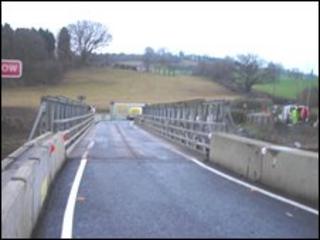 An archway is to be lifted into place at the site of a new Shropshire bridge which will replace one that collapsed.
Sheinton Bridge went into a brook in 2008, minutes after engineers, who had been reinforcing the flood weakened foundations, fled to safety.
The arch and its side walls have been scheduled to be moved into position near Cressage on Monday.
A nearby temporary bridge was due to be closed to traffic between Monday and Wednesday.
Traffic was being diverted via Cressage and Much Wenlock.
But access for pedestrians and dismounted cyclists would remain available at all times, Shropshire Council said.
Engineers fled to safety in the incident in October 2008 after a contractor spotted a crack.