Four Norwegian soldiers killed in Afghanistan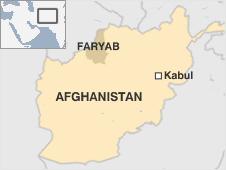 Four Norwegian soldiers in Afghanistan have been killed in a roadside bomb attack on their vehicle.
The Norwegian military said they were killed while on a mission in Faryab province, in the north of the country.
Sunday's deaths mean nine Norwegian soldiers have been killed in Afghanistan.
Norway has a force of about 500 soldiers in Afghanistan, deployed in Kabul and the north, as part of the Nato-led coalition.
"They were in their armoured vehicle when a bomb exploded on the side of the road," military spokeswoman Heidi Langvik Hansen told AFP news agency.
The deaths are the highest number of Norwegian troops killed in a single incident in Afghanistan, the defence ministry said.
June has been one of the worst months for Nato casualties in the nine-year war against Taliban insurgents.
Nato forces are attempting to bolster security in the country to defend President Hamid Karzai's government in Kabul, but are facing stiff resistance from insurgents in many parts of the country, especially the south.
The Taliban were overthrown by US-led forces in 2001.
Related Internet Links
The BBC is not responsible for the content of external sites.