Colombia assembly leader seriously wounded in attack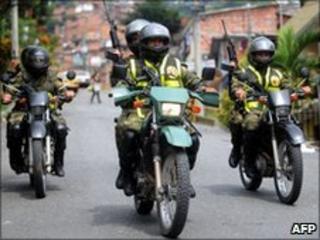 Gunmen in Colombia have seriously wounded the president of the Medellin city assembly, Jhon Jaime Moncada Ospina.
They ambushed Mr Moncada's car and shot him repeatedly in the chest.
The mayor of Medellin has summoned police, civil and military officials for a security summit.
Murders have been on the rise again in Medellin after years in which the city won recognition for successfully tackling its high crime rate.
One of the two gunmen was killed when Mr Moncada's bodyguard opened fire.
Colombian President Alvaro Uribe has offered a reward of up to 100m Colombian pesos ($50,000) for anyone with information leading to the capture of the other attacker.
President Uribe said Mr Moncada had sustained five bullet wounds in the chest.
Medellin Mayor Alonso Salazar Jaramillo said security measures for the city's assembly members would be reassessed at a meeting with officials later on Sunday.