England fans 'do Manchester proud' after defeat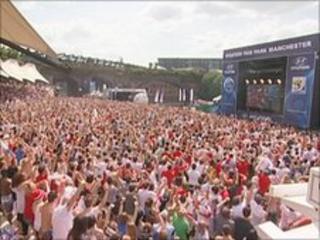 More than 13,500 people flocked to Manchester's Castlefield Arena to watch England crash out of the World Cup.
Despite losing 4-1 to Germany, and having a goal disallowed, the supporters "did their city proud".
Councillor Mike Amesbury, executive member for culture and leisure, said fans had behaved "impeccably".
"I'd like to praise those football supporters for demonstrating what it means to be true fans and doing the city proud," he said.
The Hyundai Fan Park is one of 15 special World Cup venues across Europe and entry is free.
'Amazing' experience
Mr Amesbury added: "Along with 13,500 other people watching in Castlefield, I was devastated as our World Cup dream ended.
"But the experience at the Hyundai Fan Park has been amazing.
"Despite our team losing, there was only one minor incident which was dealt with very quickly by security and police.
"But that shouldn't mar the fact that this was, with that exception, a trouble-free event where thousands of people enjoyed themselves greatly."
All matches are being shown at three big screens in Castlefield and special events are being planned in the Fan Park for days when there are no matches being played.