Sammy Wilson: Stormont Budget cuts 'not based on party'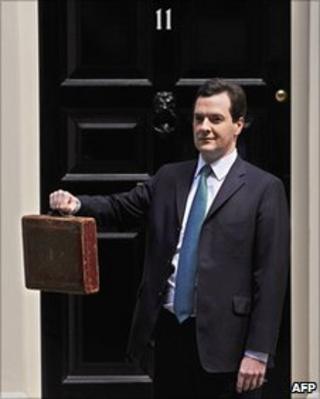 Decisions on which Stormont departments should make cuts will not be based on party political considerations, Finance Minister Sammy Wilson has said.
The Department of Finance estimates the NI cuts could range between £350m and £870m in annual savings.
Mr Wilson said the full extent would not be clear until October.
The DUP MP said the Ulster Unionists being in charge of health would not affect any decision on whether to protect that department's budget.
The Northern Ireland Executive was told last month it must save an extra £128m on top of £393m other savings this year.
As the devolved administration in Northern Ireland does not have responsibility for tax-gathering, the Treasury in London works out how much money it gets from the UK's overall income.
Political leaders in Northern Ireland have already pledged to fight the cuts and protect as much of its block grant as they can.
Spending cuts
Chancellor George Osborne's first Budget last Tuesday was dominated by spending cuts and tax increases.
Mr Osborne said he would publish a paper on rebalancing the Northern Ireland economy later this year.
He said UK government departments - excluding health and international development - would be cut by 25% over four years, with the full details to be set out on 20 October.
The government said 600,000 basic rate taxpayers in Northern Ireland would benefit from the increase in the personal income tax allowance which will rise by £1,000 in April to £7,475.
That is worth £170 a year to basic rate taxpayers.
However, lower earners could be hurt by a package of measures including a freeze on child benefit for the next three years and, from next year, a reduction in tax credits for families earning over £40,000.
From 2013 the large number of Disability Living Allowance claimants in Northern Ireland will face a medical assessment.
The government said up to 15,000 businesses in Northern Ireland could benefit from a scheme which will mean new companies will be exempt from £5,000 of National Insurance payments for the first 10 workers.