Freedom ceremony at Whitehaven Festival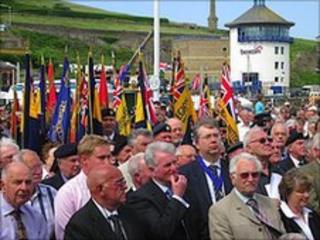 Local cadets and members of the armed forces have been honoured during a unique event in a Cumbrian town.
Copeland Council awarded them the Freedom of the Borough at an open-air council meeting on the harbourside at Whitehaven.
The ceremony took place during the annual Whitehaven Festival, which has attracted thousands of visitors.
The event also coincides with the 150th anniversary of the formation of the cadet groups locally.
Representatives of Copeland-based branches of the Sea Cadets, Army Cadet Force and the Air Training Corps, plus the regular armed forces, have been honoured.
Councillor Elaine Woodburn, leader of Copeland Council, said: "This is a way for the borough to officially recognise the people who risk their lives in the line of duty.
"In addition the cadet forces have, for many years, instilled leadership, teamwork and respect in our local young people.
"Awarding them the Freedom of the Borough is one way we can thank and applaud them all."