Children saved from sea at resort in Essex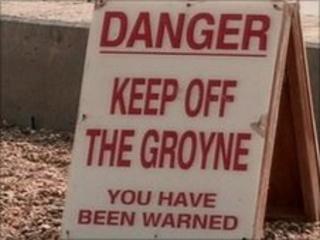 Two children have been rescued from the sea at an Essex resort after getting into difficulties near a breakwater.
A brother and sister from London aged eight and 10 were saved by beach guards at Clacton's west beach on Saturday.
They were brought ashore by a boat operated by Tendring District Council's beach patrol. The children's father also went into the sea.
After their condition had been assessed the children were allowed to rejoin their parents on the beach.
Warning to swimmers
The council has issued a warning to people using the beach about the dangers around breakwaters and groynes.
Senior seafront warden Michelle Perry said the children had got into problems after climbing over the breakwater and entering the sea on the other side.
"People should be aware that the depth of the water can vary considerably from one side of a breakwater or groyne to the other," she said.
"We would advise anyone to stay clear of these and other structures in the water when they are swimming for their own safety."