Police use truck to monitor lorry drivers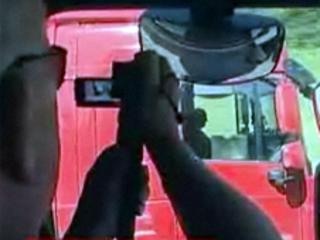 Police in the West Midlands are using a truck to deal with motoring offences by lorry drivers.
In the past it has been hard for officers to catch the drivers breaking the law because they cannot see inside cabs from their patrol cars.
But by using an unmarked truck themselves, police are at the same height and are able to film drivers.
A uniformed police car follows, waiting to be told to pull over a driver.
Department of Transport figures show that while goods vehicles account for only 10% of all motorway traffic, they are involved in nearly a third of all collisions.
Gus Nairn, of Central Motorway Police Group, used to drive heavy good vehicles and said being at the same height as other lorries is a real advantage.
He said the truck gives an "elevated position where you can see in the cab which is something you don't normally have the benefit of in a patrol car".