Orange Order submits Drumcree march form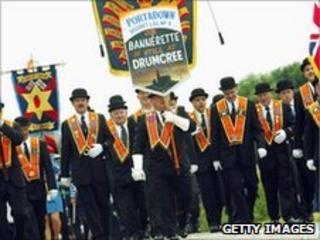 Orangemen have formally notified the Parades Commission that they intend to hold their annual Drumcree march in Portadown on 4 July.
Members of Portadown district handed the form to the police at Drumcree Hill on Sunday afternoon.
The application was due to be submitted several weeks ago but the Orange lodge withheld it in protest at "illegal republican parades".
It is required to submit a form known as an eleven-bar-one.
Earlier this month, the Garvaghy Road Residents Coalition in Portadown had said it believed the Order had decided to "engage in a game of brinkmanship" with the Parades Commission and to "unnecessarily raise tensions in Portadown and elsewhere".