World Cup fever builds for crucial Germany match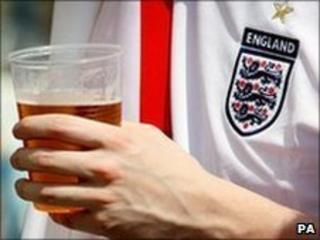 Fans across the country have spent the day gearing up for England's crunch World Cup game against Germany.
As temperatures climbed toward highs of 31C (87.8F), thousands of football fans were flocking to outdoor screens, pubs and even churches to cheer on England.
Hexham Trinity Methodist Church in Northumberland was showing the game on a large screen in its hall.
Rev David Flavell said he expected a good turnout - with English and German fans attending.
He said: "We had 85 at the last game on Wednesday.
"We're expecting a big crowd, especially as we have more than one German family attending the church.
"We're hoping that everybody will stay on for our contemporary worship service at 1800 BST, after we go through on penalties."
England need to win the last 16 game in Bloemfontein, South Africa, in order to stay in the World Cup.
More than 15,000 fans were expected at Manchester's Castlefield Arena, which has three giant screens, music and an artificial beach with a five-a-side beach football arena.
It is one of 15 special World Cup Hyundai parks that have been created across Europe.
In Sutton Coldfield, West Midlands, 30-year-old legal secretary Dan Taylor was hoping to get that pitch-side feeling by watching the game on the 100sq ft (9.2 sq m) turf laid down in his living room.
Mr Taylor, who has put white markings on the grass and added a corner flag, was gathered with a group of friends to cheer on England.
"I think we can definitely win if we play like we did against Slovenia and Rooney performs - we have better players," he said.
"I think it will be about 2-1 to England. It will be tight but we have the better team."
He said if England wins, the turf may have to replaced for future matches.
"It is still green but is a little brown in places," he said. "If we win, which we will, and go through to the quarter finals, I will have to get some more I think."
One England fan whose business will gain if Germany wins is Alan Stott, who fronts a German oompah band.
Mr Stott, from Tenbury Wells, Worcestershire, said if Germany go through, the band would be playing at a World Cup-themed event in a Liverpool shopping centre at one of their future matches.
He said: "As an English person, although doing a German act, I am hoping England win but from a professional point of view, if Germany win we will get another booking from it."