Lothian and Borders Police in 'radical' savings plan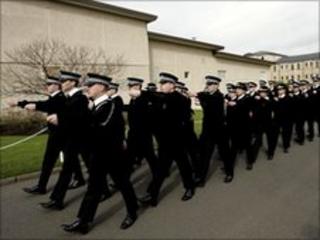 The head of one of Scotland's largest police forces has set out "radical" proposals to protect frontline services in the face of looming cuts.
Lothian and Borders chief constable David Strang is considering merging every part of his operation with other public bodies or forces.
But he told BBC Scotland's Politics Show that frontline police officer numbers would be protected.
The force faces savings targets of about £43m.
Justice Secretary Kenny MacAskill has warned Scotland's eight police forces of "unprecedented challenges" ahead, saying changes were needed because of public spending cuts.
Joint working
Mr Strang said the whole public sector was having to face the consequences of the UK Budget, which proposed a series of spending cuts and tax rises, in order to tackle the country's deficit.
He said: "Just taking policing, across Scotland, if we had to implement a 16% reduction, that would be 2,500 police officers. Clearly we won't reduce frontline police officers."
Mr Strang said he was instead looking at sharing services and backroom policing functions.
The officer explained: "Take child protection for instance - GPs, health visitors are involved in that, social workers teachers and police officers.
"We work very closely and we need to do more of that joint working in a radical new way than simply in our own organisations."
Details on the depth of cuts to the Scottish government's Treasury block grant will not become clear until the comprehensive spending review in the autumn.