'Oldest' steamship completes refit and heads for London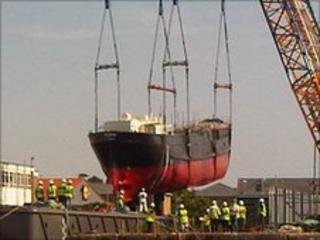 A ship that is thought to be the last steamcoaster in the world has completed a £1.9m restoration in Suffolk.
The 300-tonne SS Robin will be hoisted by giant cranes from her current base in Lowestoft on to a pontoon to be returned to London.
The steamcoaster was built in 1890 and is listed on the National Historic Fleet register.
Her new home will be on the river Thames where she will be used as a floating museum dedicated to seafarers.
Project management consultants Kampfner Limited led a team of East Anglian and London-based marine consultants, engineers, naval architects and shipwrights in the two-year restoration project.
Saved for nation
David Kampfner said: "We've developed an exciting and entirely new concept for historic ships.
"This irreplaceable 'Grade 1' listed vessel is the only one left of her type, and will be saved for the nation.
"She is set to enjoy a new lease of life on the River Thames as a museum dedicated to the seafarers who sacrificed their lives on the oceans far from home.
"We're privileged to be working with an excellent team of specialists from around the UK.
"There's a real sense of making history here today - a momentous occasion, marking a new chapter in the remarkable story that is SS Robin."
The SS Robin was taken to Lowestoft in 2008 to undergo essential conservation work and repairs to her riveted structure.
Steamcoasters would take goods from major ports - such as London and Liverpool - to smaller docks.