Prayers said for Nottingham gas explosion couple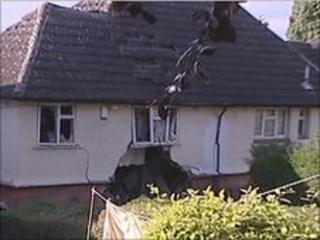 Prayers have been said for a Nottingham couple who were seriously injured in an explosion a week ago.
The congregation at Christ Church in Cinderhill was urged to support Sandra Shaw, 42, and Alex Kirk, in his late 30s, from Stockhill Lane.
The couple, who remain in hospital, both lost limbs in the suspected gas explosion on 20 June.
Police and health and safety officials are carrying out an investigation into the cause of the explosion.
The council house was badly damaged in the incident and is being demolished.
The explosion was heard up to half a mile away and caused part of the house's rear wall to collapse and much of the first floor to give way.