Countries clash in Lincolnshire egg throwing contest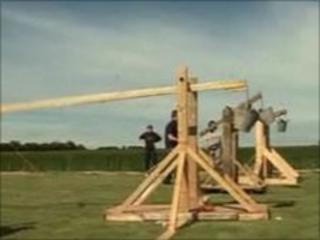 Teams from across the world are competing in an egg throwing competition being hosted by a village in Lincolnshire for the fifth time.
The championships are being held at Swaton near Sleaford where the German and English egg throwing rivalry is expected to attract the most attention.
Organisers said competitors would be vying to beat the world "throw and catch" record of 213ft (65m).
Other events include the egg relay and the egg trebuchet challenge.
World Egg Throwing Federation president Andy Dunlop said 4,000 people were expected to attend the event, which has a total of 200 participants.
He said there was fierce competition in the trebuchet event - which involves a medieval siege machine resembling a large catapult.
Teams from Germany and England are expected to launch their eggs at a human target 390ft (120m) away at speeds of 100mph (161kph).
Other teams competing in the trebuchet include Dutch, American and Welsh sides.
The target throwing event has a human target which this year is the world gravy-wrestling champion Joel Hicks. He won his title in Lancashire by overcoming his opponent in a 200-litre vat of chicken gravy.
The federation said although it is a fun event, health and safety is taken seriously with all competitors wearing eye protection and an orange cape.
Money raised during the competition will be donated to the Red Cross, Leukaemia Research, Lincolnshire Air Ambulance and other charities.