Bangladesh opposition stages general strike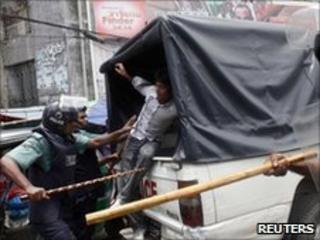 Most Bangladeshis have observed a general strike called by the opposition - the first for more than three years in the country.
There were minor clashes as police arrested about 200 people.
The anti-government Bangladesh Nationalist Party (BNP) and its allies had called the strike to highlight the government's "failures and excesses".
It is seen as the first significant challenge to PM Sheikh Hasina since she took office in January 2009.
The BBC's Mark Dummett in Dhaka says the day passed off largely peacefully, despite clashes in the morning, when officers wielding batons stopped thousands of activists taking part in marches.
Public transport and most businesses remained shut across the country.
The BNP and it ally, Jamaat-e-Islami, accuse the government of failing tackle corruption and improve services.
They are also demanding early elections.
Bangladesh is due to hold parliamentary polls in 2013.
Prime Minister Sheikh Hasina, who leads the Bangladesh Awami League, said on Saturday: "The BNP and its stooges are out to frustrate democracy and create anarchy."
Such general strikes are a regular part of political life in Bangladesh, although this is the first since 2007, our correspondent says.
Many people treat them as holidays but others avoid going to work in case opposition supporters attack them, he adds.