Football project for dementia sufferers may be extended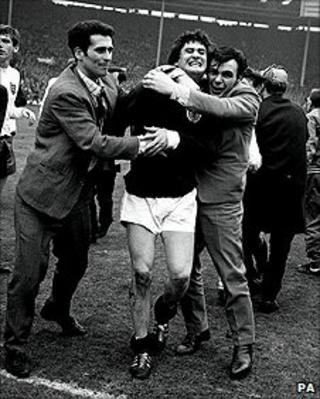 A new therapy which uses football to stimulate the minds of dementia sufferers could be extended abroad, after the success of a pilot project.
Researchers at Glasgow Caledonian University said showing memorabilia to men with the condition stimulated their memories in a "remarkable" way.
They were able to chat about memories of players and games, after being shown photographs and match programmes.
Researchers in Canada may now take the same approach, using ice hockey.
Professor Debbie Tolson, director of the university's Centre for Evidence Based Care of Older People, described it as a fascinating study with impressive results.
"The men's life-long interest in football connected them to their former selves and shared memories," she said.
"There is very little provided specifically for men with dementia and this is a welcome and positive innovation.
"At the moment, I am gathering together a group of researchers to mount a proposal to roll out the concept to other European countries."
The project has been conducted by the university together with the Scottish Football Museum, Alzheimer Scotland and member clubs of the Scottish Football Heritage Network. It was supported by Museums Galleries Scotland.
There are nearly 25 million people with dementia across the world, with an estimated 4.6 million new cases each year.
Prof Tolson said: "By listening to men with dementia and family carers we have realised how little meaningful activity is provided for men that reflect their past passions."
She said the study had shown that photos were a "potent trigger" for fans with dementia.
"We are currently in discussion with potential European partners to bid for monies so that we can do research to understand the best way to help men with dementia through football reminiscence," she added.