Toddler killed in Clough road accident was Kaci Caskey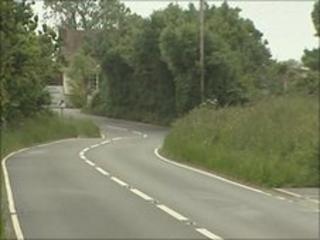 The todder who died after being struck by a car in Clough, County Down was Kaci Caskey.
Kaci, who was 23 months old, died after she was hit by a 4x4 vehicle on the Blackstaff Road at about 1715 BST on Saturday.
In a statement, her parents, Natalie and John said their daughter died whilst staying with her uncle and aunt, Noel and Caroline Morley.
The family asked for privacy to mourn their loss.
"This is another incident which highlights the dangers on our roads and, at this time, the family would urge drivers to take extreme care when driving, particularly on country roads," the statement said.
A woman who was with Kaci was treated in hospital for a suspected broken arm and whiplash injuries.
The driver of the vehicle was treated for shock and whiplash injuries after the road accident.
'Tragedy'
SDLP councillor Patsy Toman said the girl's death was a "terrible tragedy".
"The people here in Ballykinler and the Clough area are completely stunned," he said.
"I talked to a lot of them this morning and they are just wondering why and how this could have happened.
"Unfortunately there are an awful lot of tragedies on our roads, but when a young child loses their life it is harder to deal with than normal road accidents and my sympathy is with all concerned."
Police are continuing to investigate the circumstances surrounding the collision and have appealed for information.