Caravan fire spreads through Chatham Dock in Kent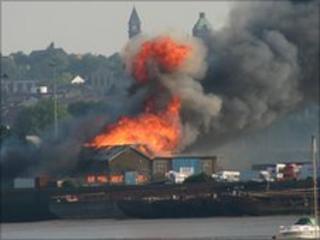 More than 80 firefighters have tackled a blaze that swept through Chatham Dock in Gillingham.
Kent Fire and Rescue Service said they were called to the docks at 1730 BST on Saturday.
A caravan went up in flames and the fire then spread to nearby lorries and businesses.
Fifteen fire engines and specialist equipment were needed to contain the blaze.
A large plume of smoke billowed over the docks and residents heard loud bangs as gas cylinders exploded.
The cause of the fire is under investigation.