German minister rebukes press for football 'war' terms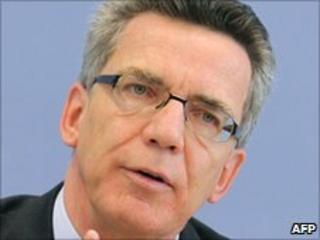 Germany's interior minister has criticised the UK's tabloid press for referring to the war in their coverage of the England-Germany World Cup match.
The two teams are set to meet at South Africa's Bloemfontein Stadium on Sunday.
Phrases used by the papers included "jeering jerries" and "fight".
But Thomas de Maiziere told the BBC that such journalism belonged in the past and urged Germans to ignore the provocative language.
BBC Berlin correspondent Steve Rosenberg said in the run-up to crucial England-Germany football matches, tabloid paper articles sometimes read more like despatches from the front than from a football tournament.
Among others that have attracted attention include the Daily Star's headline on Saturday which stated: "It's war - we will fight jeering Jerries on the pitches" and featured Wayne Rooney in a tin hat.
But our correspondent said the Germans have had enough.
Thomas de Maiziere, who is also minister for sport, told the BBC the British public did not need to read such language but the press may have decided it helped sell more copies
He said: "I don't know who needs it, we definitely don't.
"This is a thing of the past, doesn't help in the present and future and we should just ignore it."
But our correspondent said the German press had not ignored the challenge and instead had been fighting back.
Saturday's edition of German tabloid Bild dismissed the England players as "yobs" whose behaviour is questionable.
Our correspondent said another other German tabloid had contained articles about why Germany will beat England - among the reasons given included the suggestion that Germans were superior lovers, and German beer was better than English beer.