Cooler journeys promised on London trains and buses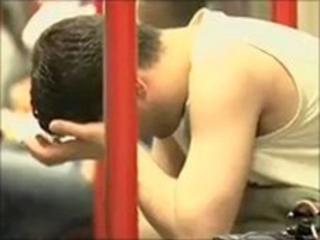 Many passengers will enjoy cooler journeys on trains and buses in London this summer, Transport for London (TfL) has promised.
Forty two London Overground trains are now air conditioned, including all on the East London Line, and new double-decker buses also have air coolers.
The Metropolitan Line will also get a new fleet of cooler trains this summer.
But passengers on all the other Tube lines will have to wait years before they can enjoy a refreshing commute.
A map by TfL charting the warmest parts on the Tube network last year showed that temperatures on parts of the Central, Bakerloo and Victoria lines can reach up to 32C.
Deeper lines 'challenging'
Kulveer Ranger, the mayor of London's transport advisor, said: "It will be cold comfort for those using warmer lines but this summer we will see a significant rollout of trains with air conditioning on the Overground lines and the first air conditioned tube train.
"Cooling the deeper lines remains a considerable challenge.
"They are deep tunnels, they are old tunnels, there isn't the space and the cost can be quite excessive."
TfL said it plans to increase its fleet of air-conditioned trains on the Overground network to 54 by the end of this year.
The cooling equipment on the Metropolitan Line is currently being tested before being rolled out this summer.
New trains will be rolled out on the Circle, District and Hammersmith & City lines over the next five years and on other routes fans and ventilation shafts are being upgraded to keep temperatures down on platforms.
About 3,490 new double-decker buses now have air coolers, an increase of 58% on last year and TfL is working to refit the automatic heating systems on 1,367 older double-decker buses.