Isle of Man parish walkers' 24-hour goal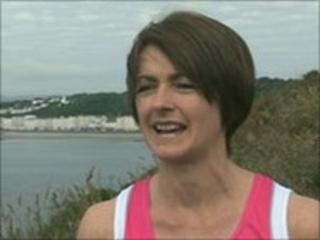 The annual parish walk is under way in the Isle of Man, with more than 1,000 people taking part.
Participants in the 85-mile hike around the island's 17 parishes aim to complete the challenge in less than 24 hours.
Walkers set off at 0800 BST and the first finishers will be expected at about midnight.
Manx mother Angie Aire is taking part for the sixth time with her two young sons to fundraise for a cancer charity.
Ms Aire has gathered a team of 18 walkers, who are aiming to raise thousands of pounds for Breakthrough Breast Cancer.
She said that each member of the team had set themselves different distance goals, but that she would be completing the entire challenge.
She said: "I'm fighting fit and completed it last year - the full 85 miles.
"We're doing it for Breakthrough Breast Cancer because it (breast cancer) just seems to hit people without reason.
"I'm fit and healthy. I don't smoke and I don't drink very much, but it's one of those things women need to be aware of."