Cornwall man given Elizabeth Cross in brother's memory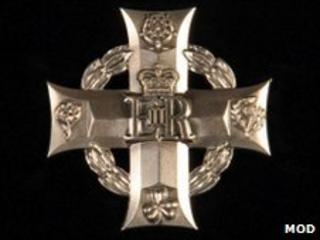 A Cornwall man whose brother was killed in the Korean War in 1951 has been presented with the Elizabeth Cross in recognition of his family's loss.
Royal Artillery Gunner Jonny Kilburn was among about 1,000 UK service personnel to have died in the conflict.
The war, which ran from 1950 to 1953, saw the US and its allies fight troops from the USSR, North Korea and China.
The presentation to Gunner Kilburn's brother, Anthony, took place at Truro Cathedral.
Cornwall Lord Lieutenant, Lady Mary Holborow, presented the medal to Mr Kilburn, from Falmouth, during a service of celebration at Truro Cathedral to mark Armed Forces Day.
The ceremony was one of numerous events staged across the South West to commemorate Armed Forces Day. Other events included servicemen and women from Cornwall marching through Truro.
Gunner Kilburn died while serving as an observation person on the Indian River and is buried in a UN cemetery.
Anthony Kilburn said that his brother had had to get permission from his mother to go to Korea because he was underage and that this had plagued her after he was killed.
He added: "The person who ought to have received it [the medal] is our mother because her sacrifice was very real.
"She actually had to give her permission for Jonny to go and it always dwelt on her mind whether she should have or not.
"My sacrifice was to lose a brother I loved, whom I'd grown up with - we'd been very close as boys."
The Elizabeth Cross is a sterling silver emblem in the shape of a cross over a wreath and includes a memorial scroll signed by the Queen which bears the name of the person who died.