NI parade marks Armed Forces Day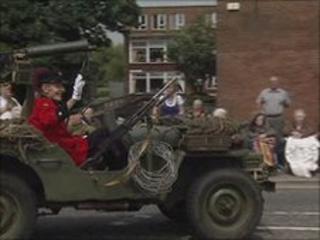 Northern Ireland's main parade to mark the second annual Armed Forces Day has been held in Carrickfergus.
The day is designed to provide civilians with a chance to honour past and present military personnel.
It follows a week in which eight UK service personnel were killed in Afghanistan, taking the death toll among British troops there to 307.
The parade was among more than 350 other events across the UK, with the main commemoration held in Cardiff.
Henry Gray of the Royal British Legion in north Belfast said the show of support would provide a great morale boost for serving troops.
"It's to make them know they're not left out and we are thinking of them," he said.
"If the soldiers who are in battle in Afghanistan could see us doing this, the hairs on the back of their necks would stand up."
On the other side of Belfast Lough, the day was marked in Bangor, County Down, with a further commemoration taking place on Sunday.
Defence Secretary Liam Fox said the nation had a "duty to support our Armed Forces for all they do for us".
"Members of the Armed Forces, both past and present, have made great sacrifices in the name of our country, but these men and women do not ask for sympathy, they ask for your support," he said.
"That's why on Armed Forces Day, we need to give our Armed Forces a collective round of applause."