Romania plans big VAT rise to secure bail-out funds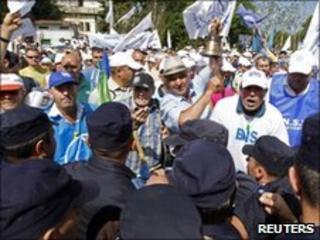 Romania plans to raise value-added tax (VAT) to 24% in an effort to curb the country's deficit, the prime minister has said.
Emil Boc said the 5% rise was an attempt to guarantee a $20bn International Monetary Fund (IMF) loan.
The move comes after Romania's top court ruled out plans to cut pensions, prompting the IMF to delay key talks.
But critics say the VAT rise will hit consumer spending in the European Union country.
"The government has decided to raise the VAT tax by five points," Mr Boc said at a press conference.
"Under these conditions, the agreement with the IMF will continue".
He said an IMF meeting to discuss Romania's aid package would now be held on 30 June.
The austerity plan negotiated by the government with the IMF aims to cut the national deficit from 7.2% of output to 6.8%.
'Deeply disappointed'
Finance Minister Sebastian Vladescu said the increase, which will be implemented in July, will bring in between 3.5 to 4 billion lei ($1-1.15bn) extra revenue in 2010.
"I cannot hide that I am deeply disappointed that today we are raising VAT," he said, adding that it was important to ensure the country's "financing ability".
The prime minister said the VAT rise would be "closely co-ordinated with the National Bank of Romania in order to avoid inflationary effects".
The increase will put Romania just below a number of states which share the highest VAT rate in the EU - 25%.
The average rate for European countries is 20%, according to accounting firm KPMG.
But some critics argue that the VAT increase could worsen an already struggling economy.
"An increase of VAT will be bad for consumption," said Nicolae Chidesciuc, chief economist at ING Bank Romania told AFP.
He said there was a need to "adjust spending in the public sector".
On Friday, a court ruled out government plans to cut pensions by 15%.
The Constitutional Court said the measure was unconstitutional, a ruling which cannot be appealed.
The government is also planning to cut public sector salaries by 25%.