Blackpool pays tribute during Armed Forces Day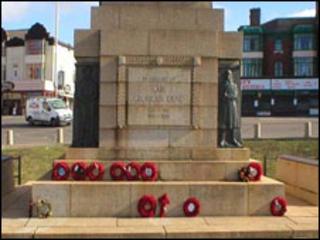 Blackpool's D Day and Normandy veterans have paraded through the resort to mark Armed Forces Day and honour fallen comrades.
The march was one of a number of events that have been staged throughout the week.
The cenotaph was illuminated with a series of projected images, designed by children and veterans to mark the sacrifices of servicemen and women.
Cadets are staging a 150th anniversary celebration in Stanley Park.
The band of the Royal Air Force Regiment is due to stage a concert in St John's Square from 1400 BST and the Tower Ballroom is being taken over by 1940s style big band musicians for a wartime nostalgia evening from 1900 BST.
On Sunday there will be a service at the cenotaph from 1100 BST followed by a forces, veterans and cadets parade along the promenade.
The resort's taxi drivers plan to pull a taxi from the Tower to South Pier on Sunday at 1300 BST to raise funds for armed forces charities.