Cumbria health chief in plastic cup call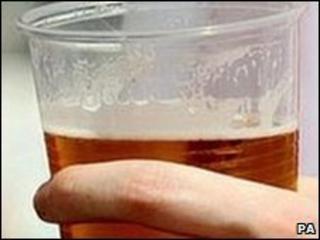 A senior health official has called for bars and clubs in Cumbria to get rid of their glasses and replace them with ones made from reinforced plastic.
Cumbria's director of public health, Professor John Ashton, said glasses are often used as weapons in assaults.
These frequently result in facial injuries, which require reconstructive surgery, and can have a significant psychological impact.
He has appealed to licensees to use ones made from polycarbonate.
Prof Ashton said: "The NHS increasingly has to deal with assault victims who've been attacked in public places by someone using a glass as a weapon.
"Often these types of incidents are not premeditated, but a result of tensions boiling over and are fuelled by alcohol.
"In these situations people often reach out for the nearest weapon, which on our streets and in pubs and clubs at the weekend is the lowly glass.
"If we take away the ability to use such a vessel as a weapon, by replacing glasses with their polycarbonate counterparts, then we have essentially removed weapons from the street."