North Yorkshire goat promoted by RAF squadron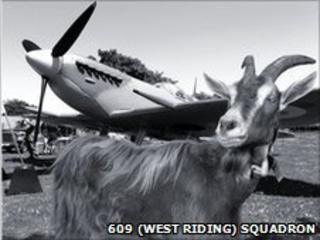 A goat at a farming museum in North Yorkshire, who is the official mascot of an RAF squadron, has been promoted.
Jeffery the Toggenberg goat is an honorary member of 609 (West Riding) Squadron, based at RAF Leeming.
His appointment is steeped in tradition, as the squadron's mascot during World War II was a goat of the same breed.
The goat, nicknamed "Jeffers" by personnel, was promoted from cadet officer to pilot officer on Saturday.
Jeffery, who lives at the Yorkshire Museum of Farming near York, had stripes added to his collar by Squadron Leader Jeff Metcalfe at the squadron's annual reunion.
He achieved the rank after a reasonably successful three-month probation period.
Jeffery was appointed as mascot after the squadron's Flt Lt Alfie Hall saw a picture of him on a museum leaflet.
He was struck by the animal's "uncanny resemblance", to William de Goat, who was taken on as the squadron's mascot during World War II after being donated by a pub landlady.
During the reunion on Saturday, Jeffery was introduced to veteran squadron member Sir Joe Atkinson who flew Spitfires with the squadron in the Battle of Britain and remembers the original William de Goat.
Ian Richardson, communications manager at the Yorkshire Air Museum in Elvington where the event took place, said: "It's gone very well. Jeffers has behaved himself well and has been promoted."
David Thirlwall, site manager at the Farming Museum, said it had been an exciting few months for Jeffrey.
"Jeff was a guest at RAF Leeming's 70th birthday celebrations recently and behaved impeccably - apart from trying to ram a wing commander and nibbling one of the officer's wife's shoes."
Mr Thirlwall said that the animal's newly-acquired status had been well-received by personnel at the base.
"I think they regard him as a bit of a maverick," he added.