Archbishop Rowan Williams holds Tenby church service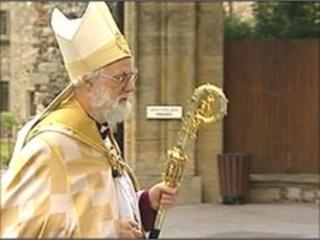 The Archbishop of Canterbury has conducted the Sunday morning service of a parish church to mark its 800-year history.
St Mary's Church in Tenby, Pembrokeshire, was first built in 1210, when Gerald of Wales was its rector.
Ystradgynlais-born Dr Rowan Williams led the 1000 BST service as part of the church's year of celebrations.
The current rector, the Reverend Andrew Davies, said the visit was the first by an Archbishop of Canterbury since 1907.
He said: "It is very rare for an Archbishop of Canterbury to visit a parish church in this way."
In February this year, the Archbishop of Wales, Dr Barry Morgan, took part in the church's anniversary celebrations.
'Stronghold'
He said: "When St Mary's was first built in Tenby in 1210, Wales was a part of Catholic Christendom, the Magna Carta had not been signed and the Normans were building castles to control the land by force.
"It's certainly seen a lot of changes over the centuries but throughout it has been a stronghold of Christianity."
As well as being the first rector of St Mary's, Gerald of Wales - Giraldus Cambrensis - was also Wales' first travel writer
His book Journey of Wales followed a 500-mile journey around the country with the Archbishop of Canterbury in 1188 to recruit soldiers for the crusades.