Iraqi asylum seekers deported from UK still detained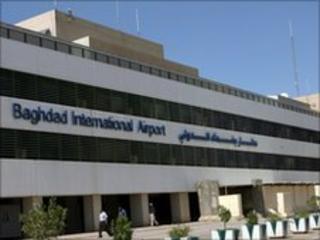 More than 10 Iraqi asylum seekers deported from the UK more than a week ago are still in detention in Baghdad.
The men were part of a group of more than 40 Iraqis forcibly removed on 16 June after their claims for political asylum were turned down.
Some of the men claim they were beaten by UK officials during the flight.
The UK Border Agency has not responded to the allegations, other than to say as a matter of policy, a "minimum use of force is an absolute last resort."
One of the deportees told the BBC by telephone that they were being held in a single room at Baghdad International Airport.
'Dangerous and unstable'
He said they did not have access to proper washing facilities and had only two beds and one toilet between them.
They were taking it in turns to sleep, he said.
Around 30 deportees have now been released, but at least 11 are still in detention, waiting for their identities to be verified and documents to be issued.
Human rights organisations and the United Nations have urged countries not to deport asylum seekers to central or southern Iraq, saying the country remains dangerous and unstable.
A spokesman for the Iraqi interior ministry said he could not say when the men would be released.
Journalists have not been allowed access to the men.
Last week's flight was the third of its kind from the UK since last October.