Voters defy Islamist threats in Somaliland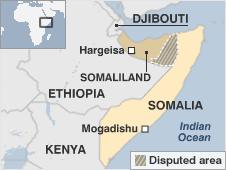 There has been a strong turnout for the presidential election in Somaliland, in spite of threats by Islamist militants.
International monitors say people formed queues at many polling stations of the self-proclaimed state.
The government closed the country's borders amid fears that Islamists from neighbouring Somalia could try to disrupt the elections.
The Islamist group al-Shabaab had warned voters to stay at home.
Earlier this week, the group had issued an audio message, describing democratic elections as "the devil's principles".
The Somaliland government had asked voters to ignore the warning.
Somaliland broke away from Somalia in 1991 and is not recognised internationally as an independent state.
BBC analyst Martin Plaut says that the country is largely peaceful and has an effective administration - in sharp contrast to the rest of Somalia.
He says many people in Somaliland hope that if this election goes well, it will strengthen the case for independence.
Dozens of international observers were in the region to watch the vote.
Incumbent President Dahir Riyale Kahin faces two opponents: Ahmed Mohamed Silaanyo from the leading opposition party, Kulmiye, and the leader of the Justice and Welfare party, Faisal Ali Warabe.
The final result should be announced in about a week.