Ministers to announce launching of school 'Olympics'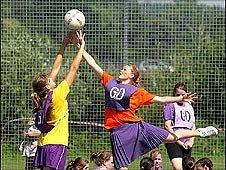 Competitive sport is set to be revived in England's schools with the launch of a national competition based around the Olympics, ministers say.
The initiative is to be announced by the Culture Secretary Jeremy Hunt and Education Secretary Michael Gove at the City of London Academy on Monday.
They will say the aim is to ensure the 2012 London Olympics leaves a lasting sporting legacy.
The schools competition will be funded by cash from the National Lottery.
Events will involve a wide range of sports including football, rugby, netball, golf, cricket, tennis, athletics, judo, gymnastics, swimming, table tennis, cycling and volleyball.
From 2011, schools will compete against each other in district leagues, with winning athletes and teams qualifying for up to 60 county finals, with the most talented then selected for national finals.
The first championship will take place in the run-up to the 2012 Games, with paralympic-style events staged in parallel for young people with disabilities.
Mr Hunt told the Daily Mail: "I want to give a real boost to competitive sport in schools using the power of hosting the Olympic and Paralympic Games to encourage young people - whatever age or ability - to take part in this new competition.
"Sport - whether you win or lose - teaches young people great lessons for life. It encourages teamwork, dedication and striving to be the best that you can be."
Lottery funding of up to £10m a year, distributed by Sport England, will be used to create a new sports league structure for primary and secondary schools, culminating in the 2012 finals.
Mr Gove said: "We need to revive competitive sport in our schools. Fewer than a third of school pupils take part in regular competitive sport within schools, and fewer than one in five take part in regular competition between schools. The School Olympics give us a chance to change that for good."
Related Internet Links
The BBC is not responsible for the content of external sites.