Fire cuts power to thousands of Portsmouth homes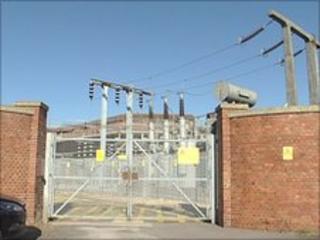 Thousands of homes in Portsmouth have been left without power after a fire broke out at an electricity substation.
About 47,000 customers were affected by the fire at the substation in Warblington Street, Old Portsmouth, at about 0140 BST.
The fire was brought under control at 0621 BST, although hazardous chemicals delayed engineers making repairs.
Southern Electric said 5,000 customers were still without power but they hoped it would be restored by about 2000 BST.
In a statement, the company said: "We are asking customers who have power to use electricity sparingly because the network is a lot weaker than normal.
Hazardous gas
"This will maintain power supplies to people who have still got it and help restore power to those who have not."
A Hampshire Fire and Rescue Service spokesman said: "The incident was also declared a hazardous material incident (Hazmat) due to the presence of a gas known as sulphur hexafluoride, which is used in the building."
About 16 firefighters dealt with the incident.
"Southern Electricity staff were unable to enter the building until 0733 BST," the fire service added.
Hampshire police said the outage affected Portsmouth Historic Dockyard and the Guildhall Walk area.
Abseil cancelled
All licensed premises closed at the same time but there were no serious public disorder incidents, a spokeswoman added.
The company said engineers were making progress in making repairs to the substation and cleaning up the soot and ash.
She added that mobile generators have been deployed across the city, with smaller ones in residential streets and bigger articulated generators in commercial areas like Gunwharf Quays.
A mass public abseil event down Spinnaker Tower was cancelled as a result of the power cut, the organisers said.
Portsmouth City Council has set up a helpline for vulnerable residents hit by the power cut. The number is 0800 085 0375.