Derbyshire fire crews battle tyre blaze at factory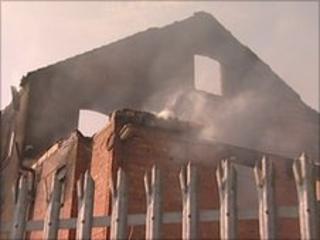 A fire at a building containing thousands of tyres is being investigated.
The former factory on Ilkeston Road in Trowell at the Nottinghamshire-Derbyshire border was badly damaged on Friday night.
A thick cloud of smoke built up after 3,000 tyres caught light.
Derbyshire fire spokesman Simon Fairchild said the tyres were allowed to burn out naturally to stop pollution in the River Erewash from run-off.
"There were about 3,000 tyres stored in the basement and we were informed by the Environment Agency that we should not use water but just control the incident.
"The environmental impact of water run-off from the fire in the local area would have been disastrous," he said.
The three-storey building was badly damaged and will be demolished as soon as possible, the fire service said.
The A609 was closed to traffic to allow firefighters to tackle the blaze.