'Don't jump into canals,' British Waterways warns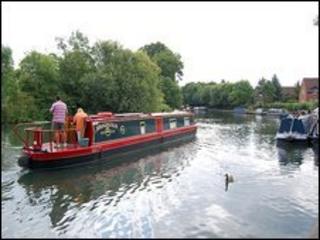 With temperatures remaining high this weekend, British Waterways is urging people not to cool off by jumping into canals and rivers.
The organisation has a campaign called SAFE or Stay Away From the Edge, warning of the dangers.
Many waterways are relatively shallow, and anyone jumping or diving into them runs a risk of serious injury from hidden objects under the water.
It also warns of the dangers of cramp and illnesses in the water.
Cold water can bring on cramps to even the strongest swimmers, while currents created by passing boats and water movements around locks and weirs pose further dangers.
Contact with canal or river water can also bring about stomach illnesses or Weil's disease.
Around 300 million visits are made to British Waterways' 2,200 mile network of canals, rivers, reservoirs and docks each year.
It says any open body of water can pose a hazard, particularly to unsupervised children or anyone under the influence of alcohol.
Peter Wade, the organisation's safety advisor, said: "Everyone loves to come down to the canal in the summer and it makes a fantastic free day out for all the family.
"There are plenty of ways to enjoy the waterways safely, from picnics and wildlife walks to joining canoeing clubs and just watching the boats go by.
"If anyone wants to go swimming we would suggest they choose somewhere suitable, such as a swimming pool or lido. British Waterways urges adults to make sure young children are supervised close to water, and we encourage people to stay away from the edge."