Prince Harry praised by wounded US marine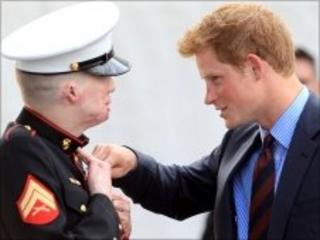 A wounded US marine has described the empathy he felt with Prince Harry after the pair met in New York.
Cpl Aaron Mankin suffered serious injuries and was facially disfigured after being caught in an explosion in Iraq five years ago.
He praised the prince for his efforts to forge greater links between British and American organisations helping injured soldiers, sailors and airmen.
They met at a reception on the former aircraft carrier USS Intrepid.
The Intrepid is now a sea, air and space museum docked on the west side of New York's Manhattan island.
During the event Harry spoke of his hopes for closer links between the countries over the welfare of wounded servicemen.
'Fight together'
He introduced two UK officers who were seriously hurt on operations but who have since been working to improve conditions for fellow injured service personnel.
Cpl Mankin was the first beneficiary of Operation Mend a US programme to provide reconstructive surgery for the military's wounded.
He said about the prince: "You connect when you look into his eyes and you see a fellow brother in arms. The look in his eye when I asked about how we could co-operate together and work together said it all."
In his address Harry spoke about the common bond between the servicemen, saying: "We fight together, tragically, some die together; and others are wounded together.
"On the battlefield, American and British medics strive heroically to treat each other's casualties. Beyond the battlefield though, paths diverge as each country takes back its own."
Speaking with the Manhattan skyline in the background, he added: "For veterans and those who care for them, transatlantic bonds do hold firm. But I believe that they could still be strengthened.
"We in Britain can learn from the American culture of charity and from the great pioneering work in the fields of care, prosthetics and rehabilitation of your universities, hospitals and other organisations and in turn I hope we can offer some inspiring examples of our own."
On Saturday, the prince will try his hand at baseball when he throws the first pitch in a game between the New York Mets and Minnesota Twins.
He will also visit the offices of Unicef's emergency operation centre where he will learn how mapping is used to help co-ordinate relief efforts after a disaster.
In the evening he will attend a reception for his Africa-based charity Sentebale.