Papers savour scorching weekend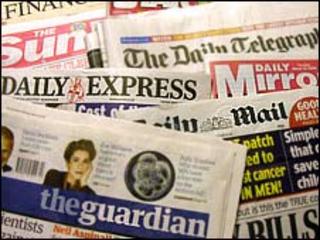 Various events are set to send the nation's temperature soaring over the next 48 hours, starting with the weather, Saturday's papers report.
"Ninety degrees fahrenheit" says the Daily Express's simple headline, looking forward to the "Mediterranean" style temperatures forecast for the weekend.
But it's the prospect of England v Germany that's generating the most heat.
The Daily Telegraph hopes, for the sake of the nation's cardiac health, the match does not go to penalties.
'Exquisitely arranged'
"If it does," says the Daily Mirror, "England expects every spot kicker to do his duty and score."
"This could be our chance to settle some scores," according to the Sun.
Life will grind to a virtual halt shortly before 1500 BST on Sunday, says the Independent, while temperatures peak at around 30 degrees Celsius.
"Barely can the components of the perfect English summer weekend have been more exquisitely arranged in advance," it says.
Defence decisions
David Cameron's stated wish to see British troops home from Afghanistan is the lead in the Guardian.
The paper says President Obama will try to reassure Mr Cameron that the war will not go on indefinitely when the two leaders hold talks on the fringes of the G8 summit later on Saturday.
The Daily Mail says ministers are conscious that another five years in Afghanistan would be hugely costly.
This at a time when there is pressure for big savings in the defence budget and the war is also deeply unpopular.
Royal influence
There's wide coverage of comments made by a High Court judge about Prince Charles on Friday.
The Daily Mail reports that Mr Justice Vos "blasted" the Prince during his ruling.
He said a £3bn redevelopment of Chelsea Barracks in London had been dropped due to a letter the prince wrote to the Qatari royal family who own the site.
The Times says debates about good architecture should take place in public among those affected, not in private among princes.