Oil giant Syncrude Canada guilty over 1,600 duck deaths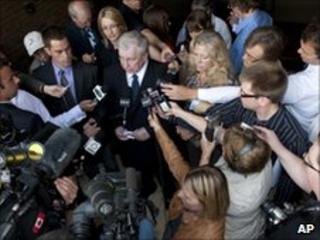 Oil giant Syncrude Canada has been found guilty of causing the deaths of 1,600 ducks that landed in a toxic settling pond in northern Alberta.
The ducks died after being coated in a toxic lather when they landed in the waste pond in April 2008.
Judge Ken Tjosvold said the oil company did not take the appropriate steps to deter the birds from the area.
Mr Tjosvold said the company had cut back "substantially on a number of deterrents" in recent years.
Syncrude Canada was found guilty of failing to prevent a hazardous substance from coming into contact with wildlife, and of depositing a substance harmful to migratory birds.
The company now stands to pay a fine of up to CAN$800,000 (£515,000).
"We are definitely pleased with this verdict, but we wish it would have come 30 years earlier so we didn't have the 170 kilometers of toxic waste to deal with," said Sheila Muxlow with the local environmental group Sierra Club Prairie.
Syncrude spokeswoman Cheryl Robb said deterence measures now operated all year round.
"We're disappointed," Ms Robb said of the verdict.
"We were very concerned that the use of these charges would have had serious ramifications on Canada's mining industry."