US warns N Korea amid concern that missile test planned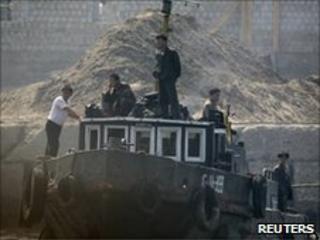 The United States has warned North Korea to refrain from "actions that increase tensions in the region," amid concerns that Pyongyang may be preparing a new round of missile tests.
The State Department said it was aware North Korea had issued a nine-day ban on shipping off its western coast.
This type of notification has preceded missile tests in the past.
The South Korea Defence Ministry said the ban could be linked to regular North Korean artillery exercises.
But Seoul said it was looking into the possibility that Pyongyang may be preparing to test short-range missiles.
"We would hate to see North Korea go through another round of missile launches," US State Department spokesman Philip Crowley told the AFP news agency.
North Korea conducted artillery drills off its western coast in January of 2010 after issuing a notification banning ships.
The country also issued a ban in May 2009 before firing missiles and carrying out a nuclear test.
'Tensions'
Tensions between North and South Korea have increased following the 26 March sinking of a South Korean warship, which an international investigation concluded was sunk by a torpedo from a North Korean submarine.
"We would encourage North Korea to avoid further provocative actions that increase tensions in the region," Mr Crowley said.
He added: "Now is the time to take steps to improve relations with its neighbours and cease any provocative behaviour."
The US's latest warning comes on the 60th anniversary of the start of the Korean War.
North and South Korea have remained divided since the war ended in a cease-fire that was never replaced by a peace treaty.