Teenager charged with south Belfast sex assault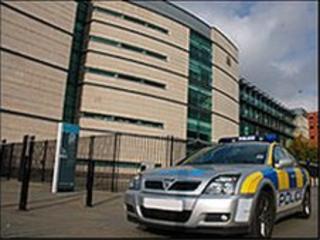 A teenager has been remanded in custody after being charged with a serious sexual assault in south Belfast.
Chris Steele, 19, of Donnybrook Street in the Lisburn Road area, was charged on Saturday with an attack on a 23-year-old woman early on Thursday.
A police officer told Belfast Magistrates Court the woman had left a friend's house nearby when her attacker dragged her into his house.
"Eventually he did let her go, but she was absolutely petrified," she said.
The detective constable said the woman's description of the living room "broadly accords" with the accused's house.
She said the police were objecting to his bail application because of fears he posed a "serious risk to the public".
In cross-examination, she agreed the woman had not described her attacker as having any distinctive tattoos which Mr Steele has on each arm.
She also agreed the accused had no criminal record.
District Judge Amanda Henderson said the case was "extremely disturbing", adding she "would share police concerns that at this stage there's a risk to the public".
He was remanded in custody to appear in court again on Tuesday.